Scientific and technical employment, 1990-2005
Douglas J. Braddock
Economist, Office of Employment Projections, Bureau of Labor Statistics
---
Alternative employment projections of scientists, engineers, and technicians indicate growth ranging widely-from 9 percent to 59 percent over the 1900-2005 period. This article summarizes the results of a BLS study on the employment prospects of scientific and technical workers, sponsored by the National Science Foundation's Division of Science Resource Studies.
Read excerpt Download full text in PDF (1,513K)
Department of Labor and Small Business Administration
Partner to Support People with Disabilities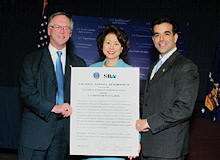 (L-R) Roy Grizzard, Assistant Secretary of Labor for Disability Employment Policy; Elaine L. Chao, Secretary of Labor; and Hector V. Barreto, Adminstrator of the Small Business Administration with the newly signed Strategic Alliance Memorandum.
Secretary of Labor Elaine L. Chao and Small Business Administration Administrator Hector V. Barreto signed a Strategic Alliance Memorandum (SAM) designed to help people with disabilities pursue small business ownership and to increase their employment opportunities in small businesses on Thursday, Dec. 11, at the U.S. Department of Labor in Washington.
Representative George Brown, the ranking Democratic member of the House Science Committee, has stated that "we abandon science and technology at our peril." "There are vast discrepancies in the level of technology and associated qualities of life nationwide and worldwide, causing difficult tensions."